How Can ASCS Help?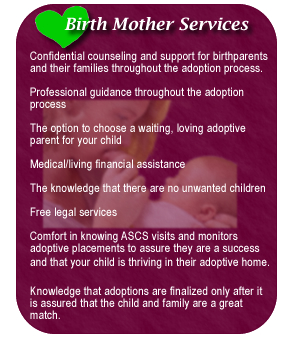 If you are wondering what options are available, what needs to be done in order to have a healthy pregnancy, or feel help is needed in determining readiness for parenting, all of these questions can be answered with the assistance of ASCS. Whatever the true need is, ASCS will make every attempt to help. These services are of no cost to you.
All of our birthparents may receive the following services through ASCS:
• confidential counseling and support for birthparents and their families throughout the adoption process
• professional guidance throughout the adoption process
• medical referrals and arrangements
• the option to choose a waiting, loving adoptive parent for your child
• medical/living financial assistance
• the knowledge that there are no unwanted children
• free legal services
• the comfort in knowing ASCS visits and monitors adoptive placements to assure they are a success and that your child is thriving in their adoptive home.
• the knowledge that adoptions are finalized only after it is assured that the child and family are a great match.
Regardless of whether the final desire is to place the child for adoption or to make an honest effort to parent, we can help a birth mother make a responsible, loving plan for her unborn child.
All services will be provided to you free of charge. Call us 24 hours, 7 days a week. Even the call is free, so call us today at 1-877-408-4658.