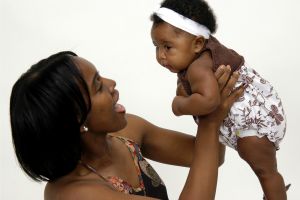 Our Rosemary Program is a special program that provides adoption services to
people of color
who desire to adopt infants and children of color. Infants available in this program are those of minority and mixed heritage.
This program has three main objectives:

1) To educate people of color on the need to adopt children of color,
2) To actively recruit singles and couples of color to adopt children of color, and
3) To greatly reduce the financial responsibilities of singles/couples of color in adopting children of color.
ASCS wishes to actively seek out and recruit minority singles and couples who wish to adopt children of color. Our nation's foster care systems have hundreds of thousands of children combined who are in need of permanent placement.
Nationally children of color (African-American, Hispanic/Latino, and Asian/Pacific Islander) comprise 39 percent of the general population but they represent 59 percent of the nation's children in foster care. African-American children constitute 15 percent of the U.S. population but account for 41 percent of the children in foster care (2005, State Partners with National Foster Care Organization to Address Racial Disparities in Texas Child Welfare System). These numbers provide only a glimpse of how much children of color are in need of permanency and stability in their lives.
While ASCS will work diligently to help find homes for children of color who are in foster care, we also wish to be proactive in our efforts. It is the agency's desire to find loving people who wish to adopt newborn and infants of color BEFORE having to enter into the foster care system. We wish to help put an end to infant and child homelessness!
In a desire to connect and mobilize the African American and other minority communities, ASCS developed a culturally targeted recruitment platform. The agency wishes to build strategic alliances to raise awareness and find "evermore" families for children of color. ASCS will rely heavily on community outreach working with faith organizations, local businesses, service organizations and minority community leaders to launch and implement grassroots awareness campaigns. Other recruitment efforts include attending local community festivals and educational events to connect one-on-one with potential adopters.
In addition to community awareness, ASCS, Inc. seeks to greatly reduce the exorbitant costs normally associated with private adoption. All individuals of color who successfully adopt through this program will pay very little in comparison to existing fees associated with private adoption. We do not want high agency expense requirements to deter anyone in their quest to expand their heart and their home to a child who needs placement. Please contact the agency to obtain the RoseMary program fee schedule.